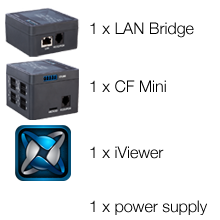 Mini Starter Pack.
The Mini Starter Pack includes all you need to get started with CommandFusion, and is perfect for single room installations such as home theatres, boardrooms as well as distributed systems such as classrooms.
---
Overview
The CF Mini provides all of your control connections, while the LAN Bridge provides an Ethernet connection to allow for control from mobile devices. Packaged with a single license of CommandFusion iViewer to allow you to create a custom GUI to suit your installation requirements for control via iPad, iPhone, Android.
CF Mini
The CF Mini is a powerful, all-in-one controller. It features 8 x IR outputs, 4 x configurable I/O ports, 4 x 30VDC latching relays and one RS232/Program port.

All CFLink Devices support a powerful rule triggering engine. This allows you to trigger macros to run when a specific event occurs - such as reading a specific value via the I/O ports or incoming data via the RS232 port. Using the rules engine, basic or complex automation actions can be implemented. All IR emitting devices include an on-board IR database, consisting of over 500,000 IR codes to ensure quick and easy configuration.
CFLink
CommandFusion uses a communications bus specifically developed for our own hardware range. This bus is known as CFLink and is designed for robustness and reliability. The CFLink bus is a 5-pin, 9-30 volts DC powered bus with an isolated RS485 communication line.
Every CFLink device contains its own processor and memory, which allows for distributed processing, simplified programming as well as eliminating the reliance on a single device. Cabling is standard Cat5 or Cat6 with distances of over 1,000m possible without the use of repeaters. Compatible cabling topologies include daisy-chain, star or a combination of both.
LAN Bridge
The LAN Bridge provides Ethernet and RS232 connectivity to all devices connected via the CFLink bus. It has many advanced networking features, including the ability to communicate via TCP Server, TCP Client, UDP Unicast and UDP Broadcast, all at the same time.

10 different communications slots can be defined, each with its own configuration of protocol type, port and other options. A maximum of 25 total TCP socket connections can be shared between each defined slot.
The on-board real-time clock allows the LAN Bridge to be used for scheduling of events, as well as randomised "away mode" events for security purposes. The clock can be configured to synchronise with a time server to ensure accuracy.
iViewer for Mobile Devices
CommandFusion iViewer for Mobile Devices allows full two way remote control of any hardware or software capable of TCP/IP or UDP communications, directly from Apple iOS or Android devices. Our powerful iViewer automation engine lets you create beautiful, dynamic and animated users interfaces.
Using our guiDesigner software, you have full control over how each page looks and interacts. Fully customize layouts, themes, interactions and easily program animations and page transitions. Create commands and macros assigned to on-screen objects as well as assign actions to user gestures, and much more.
GalleryHigh res photos available on individual product pages