SW16
The CommandFusion SW16 is a 16 input switch interface, with 16 dimmable status LED outputs and 4 dimmable backlight LED outputs.
Using the inputs you can trigger rules, essentially using macros to control anything within the CFLink network.
The SW16 is designed to be used with any keypad, custom or off the shelf.
Information Panel
The information panel can be found on the top of the SW16.
LEDs
Power (Blue)

Off = Power off
Flashing = Booting or firmware missing
Solid = Power on and ready

CFLink Fault (Red)

Solid = Fault discovered on CFLink bus. Remain solid until reset.
Reset unit to clear CFLink fault flag and turn off LED.

CFLink Activity (Amber)

Flashing = CFLink activity is detected on the CFLink network.

Input (Amber)

Solid = One or more of the dry contact inputs is closed.
Off = All dry contact inputs are open.

LED (Amber)

Solid = One or more of the status LED outputs is on.
Off = All status LEDs are off.

BLight

Solid = One or more of the backlight LED outputs is on.
Off = All backlight LEDs are off.
Pinhole Buttons
Setup

Only used for Factory Reset.

Reset
Ports
40 Pin Header
The 40 pin header on the front of the unit has pins allocated for all the dry contact inputs and LED outputs, as well as one pair for defining the LED voltage level.
The SW16 ships with a ribbon cable ready for use.
Pinout
Input 1 +
Input 2 +
Input 3 +
Input 4 +
Input 5 +
Input 6 +
Input 7 +
Input 8 +
Input 9 +

Input 10 +
Input 11 +
Input 12 +
Input 13 +
Input 14 +
Input 15 +
Input 16 +
Status LED 1 +
Status LED 2 +
Status LED 3 +
Status LED 4 +
Status LED 5 +
Status LED 6 +
Status LED 7 +
Status LED 8 +
Status LED 9 +
Status LED 10 +
Status LED 11 +
Status LED 12 +
Status LED 13 +
Status LED 14 +
Status LED 15 +
Status LED 16 +
Backlight LED 1 +
Backlight LED 2 +
Backlight LED 3 +
Backlight LED 4 +
Voltage Select 3.3V DC
Voltage Select 5V DC
Ground
Ground
Note: Short pin 37 or 38 to Ground to select the LED output voltage you wish to use. Only one of these should be shorted at any time. Leave the other floating.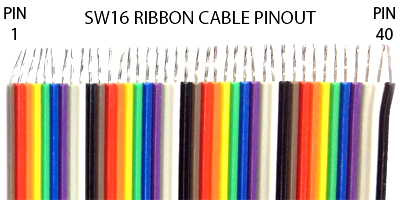 CFLink
The 5-pin CFLink connector is used to communicate with other CFLink devices on the network.
Pinout
Isolated Ground
Data +
Data -
Power (12-24V DC)
Ground
MicroSD
The MicroSD slot is used to expand the on-board memory via MicroSD cards.
Accessories
The SW16 ships with the following accessories:
40-pin Ribbon Cable
92cm (36 inch), 40-pin, rainbow-colored ribbon cable.
One end is a standard header connector, ready to plug into SW16.
Other end is stripped and tinned wires, ready for connecting to a button panel.