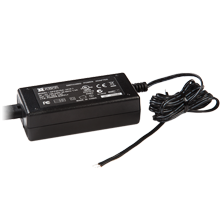 Regulated power supply,
powers any CFLink hardware.
The PS-2419 power supply is perfect for powering any hardware with a CFLink port.

Regulated output.
Clean power for your hardware.
Although CFLink powered hardware can run on a wide voltage range (9-30VDC) we recommend using a 24V regulated power supply.

Switchmode 100 - 240V AC input.
Works in any country.
The figure 8 input connector makes it easy to use in any country, with standard mains voltage levels.

Bare, tinned outputs.
Ready for action.
The regulated output is ready for use, no wire stripping required. Just terminate it into a CFLink connector anywhere on your CFLink bus to provide power.
---
Overview
The PS-2419 is a 24V DC 1.9A regulated power supply. The mains lead connects via a figure 8 input, and the 24V DC output is bare wires, tinned and ready to power any CFLink hardware.
Included Parts
The PS-2419 comes with a figure 8 mains lead, with all efforts taken to provide the correct plug for your country.
Connectivity
Input
Detachable figure 8 connector
100-240V AC 50-60Hz 1.2A
Output
Bare, tinned figure8 wiring
24V DC 1.9A Regulated
Physical
Enclosure
Black plastic
Height
28mm (1.10in)
Width
95mm (3.74in)
Depth
48mm (1.89in)
Weight
400g (approx)
Environmental & Regulatory
Temperature
5°C to 45°C (41°F to 113°F)
Humidity
20% to 85% RH, non-condensing
Certification
FCC, CE, C-Tick, UL
Warranty
Warranty
1 year limited.
Coming Soon:
High-resolution photos
Spec sheet
Product manual